The Napolitan Crib at the Basilica of Sts Cosmas and Damian, Via dei Fori Imperiali 1, is located in the very heart of Rome in an imposing archeological complex. It's a Crib of the 1700s and it was given by Mr. and Mrs. Cataldo, from Naples, who lived in Rome near the Imperial Fora.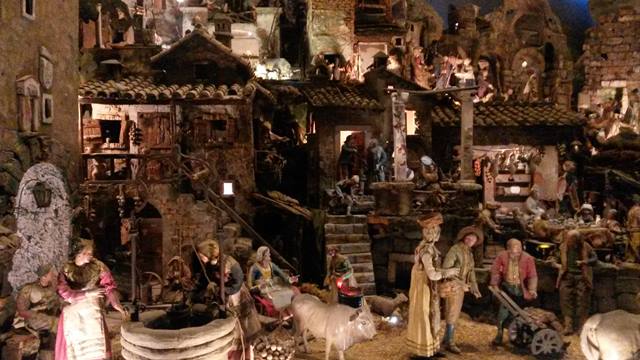 It is a wonderful handicraft indeed, made by famous artists in the field of cribs. It represents the nativity amongst people during their everyday life: the chestnut man, the greengrocer, the farmer who picks the grapes, the soldier, the host. The statuettes are made of wood and earthen. The setting is Rome in the 1700s among the columns of the Roman Forum. The work is lively and coloured and recalls the typical Christmas atmosphere.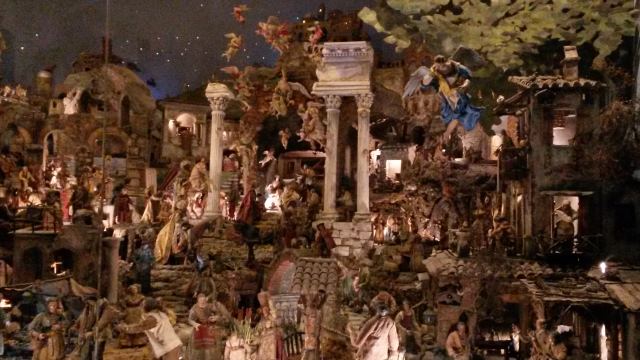 So if you want to spend your Christmas holidays in Rome and not only, as it is a permanent exhibition, you can't miss this masterpiece because:
it's one of the most beautiful cribs in Rome
it's in the center of the city between Colosseum and Piazza Venezia
it's free.
Hardly anybody knows that on the roof of the crib room, there is a painting "The Glory of the Sts Cosmas e Damiano" that at the beginning was on the roof of the basilica; now in its place (in the basilica) there is another painting of the  same shape. For further information about schedule and the basilica visit the official website.