Taking a taxi in Rome can be on one hand comfortable, on the other necessary to save you from sudden public transport strikes or if the underground suddenly closes (unfortunately it could happen). I made a list of the main taxi telephone numbers. Actually there is also an App to call a taxi, Mytaxi, but it doesn't always work (you can try maybe you are lucky). Anyway the old method to call a number is still valid, after all Rome is an ancient city…
Autoradio Taxi           +39 063570
Pronto Taxi                +39 066645
Radiotaxi La Capitale  +39 064994
Radiotaxi Tevere         +39 064157
Taxi Samarcanda        +39 065551
Radiotaxi Cosmo        +39 0688177
Chiamataxi                +39 060609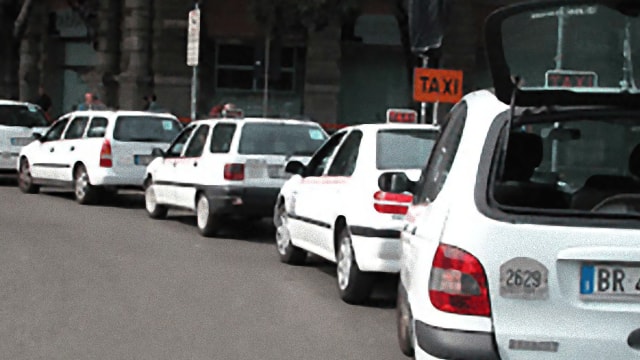 Here is the link about the official taxi fares in Rome and if you need to go to the hospital (I hope not!), if you are a woman and take the taxi from 10:00 pm to 6:00 am, or if you went to a fixed disco, you are entitled to a ten per cent discount. Furthermore for the unaccompanied women who take the taxi during the night from 1:00 am to 5:00 am there is "Per Lei" a special number without additional cost +39 0635701.  
Stay safe in Rome
Private hire vehicles  must be booked at an office, by telephone or email. Reputable, licensed car companies can offer a cheaper alternative to the taxi. While their fares are generally reasonable, they are not on a meter, instead you should ask how much the trip will cost when you make a booking.
Unbooked car are illegal. You may be approached by car drivers seeking passengers or offering a service; avoid this as these are unsafe, unlicensed, uninsured and illegal and you put yourself in danger if you use these services.
I always take with me these numbers if necessary.
Right now you can enjoy the city.